On the Southern side of the Aegean sea you will find Karpathos. The true pearl of the stunning Greek Dodecanese islands. Only five hours away from Rhodes by ferry or a one hour flight from Athens.
Are you planning your holidays for next summer? Here are the reasons why you should visit Karpathos!
10 REASONS WHY YOU SHOULD VISIT KARPATHOS
1. You can feel like a pirate.
Have you ever heard about the small island of Saria (in modern Greek Σαρία)? It is a rocky, volcanic island on the northern side of Karpathos. With only a couple of Shepherds living in Saria it is still said to be an uninhabited island. It is the place to be for some adventure! The rough terrain is ideal for hiking and even though it has little flora and fauna the view everywhere is amazing. You can find steep cliffs, underwater caves that serve as excellent shelters to the Monachus Monachus seal and the ruins of an ancient city on top of the rock formations. All which make the island quite appealing. You can hike to the highest peak of Saria, Pachy Vouno, with an altitude of 631m and enjoy the stunning view.
The Saracen pirates once turned the ancient palaces of Doric Nisyros (one of the four cities in Karpathos) into small arched houses. In 1420 almost all island residents abandoned Saria because of constant pirate attacks.
If you go to Saria also try to visit its most beautiful beach. The beach of Alimounda is considered one of the most pretty beaches in the surroundings of Karpathos where you can go swimming and spot some sea stars.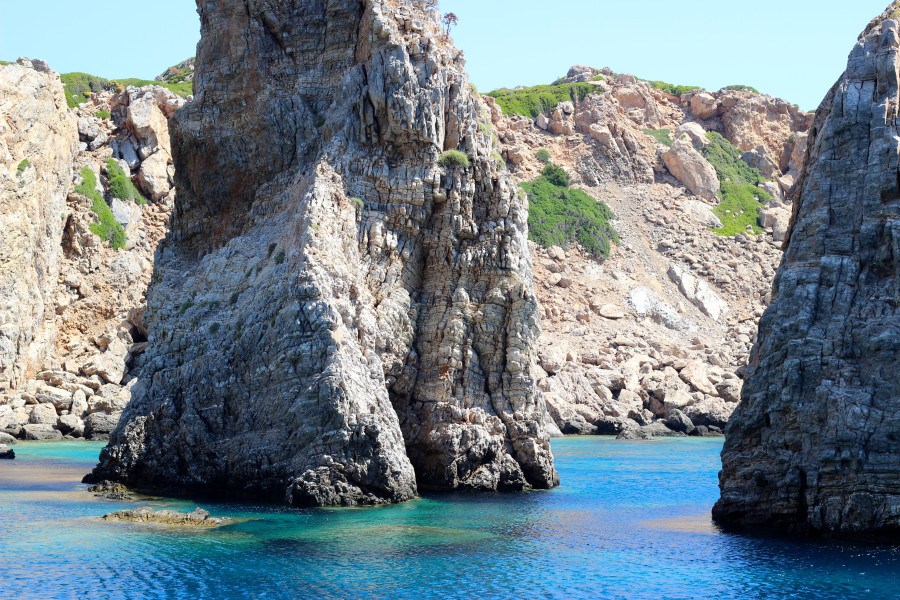 2. The Aegean waters have plenty of secrets for divers to reveal
With the Karpathos Diving Center you can explore all the beautiful dive spots in the warm waters of Karpathos and even discover new dive spots. In the summer of '15 Karpathos Diving Center discovered a ship wreck between Karpathos and Kassos!
Karpathos has dive spots for deep dives, ship wreck dives, cave dives and more! All with about 20m visibility due to the crystal clear water. The friendly staff of the dive center will make sure you get the best experience you can get in the Aegean sea, so just walk in once you're in Pigadia and schedule your dive.
3. It is still traditional
When you visit the villages you will still meet surprised locals who want to know who's visiting their home. The locals still live the way the did many years ago and did not change for tourism. A nice example is the bread baking in the north of Karpathos, which still happens in the public ovens on the street. Just look at the way the local ladies are dresses and you'll be amazed to see them wearing the traditional clothing anywhere they go.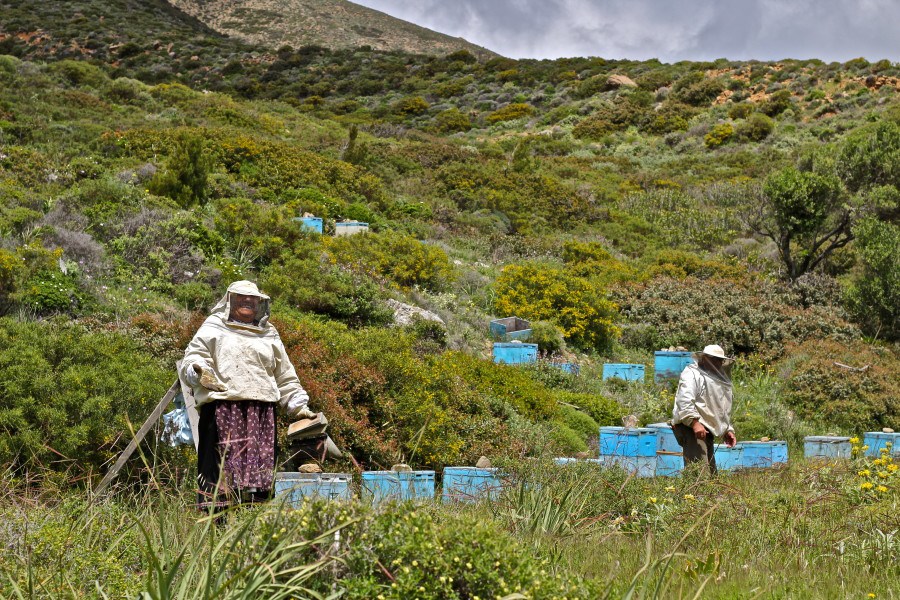 4. The hiker trails lead you to amazing spots
High mountains and deep valleys and a great view in all directions. Karpathos has a giant network of hiking trails and you can be sure to be one of the few people in this world who has walked them. Up in the North of Karpathos you can even find a Pilgrimage route that leads to the ancient city of Vrougounda.
If you're in Karpathos and want to do a guided hike instead of walking on your own then you should consider going with Art & Walk. Owned and managed by an artistic Dutch lady who fell in love with the island and made this inspirational island her home.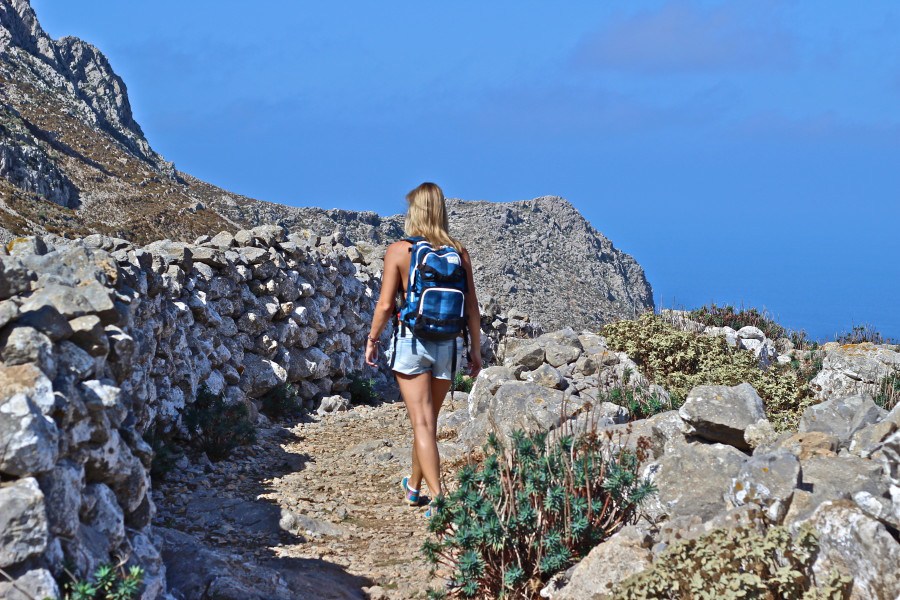 5. It's a place for food-lovers
Tzaziki, moussaka, keftedes, you name it. Every meal is a feast on Karpathos. Visit the local taverns with their wooden chairs owned by nice families and order Greek food to be amazed. You can enjoy the local dishes in the city of Pigadia at the waterfront, but you can also explore the alleys to find the restaurants the locals go to. A visit to the isolated town of Olympos is more than worth it as they have dishes that originate from this town, such as Makarounes.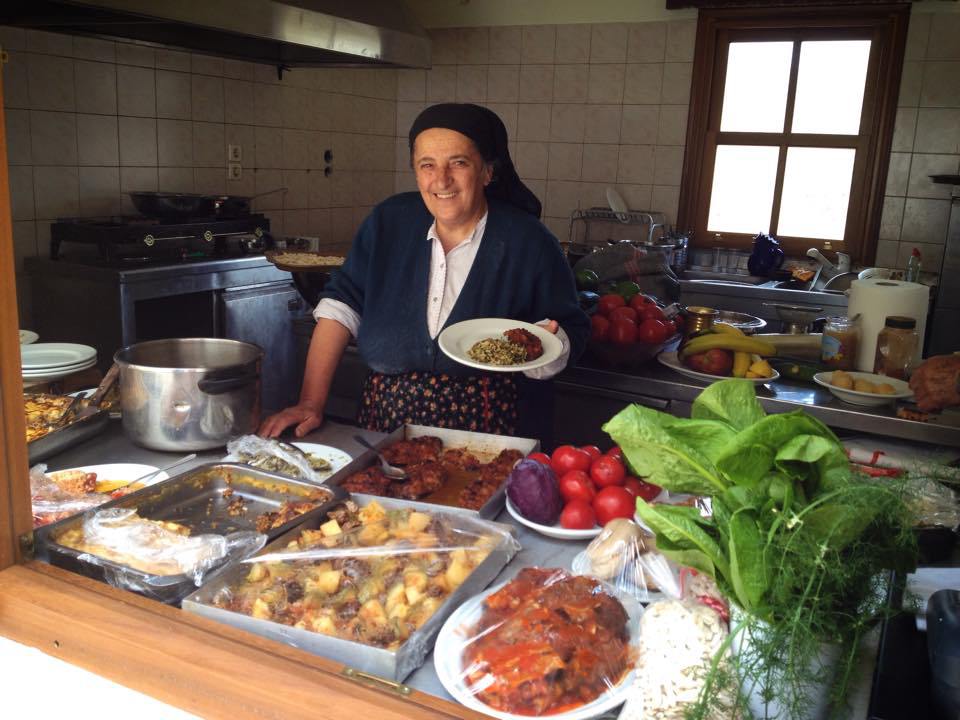 6. Young and old are welcome
Whether you are 20 or 62, there's something for everyone. Fortunately it's nothing like Rhodes or any other holiday party spot, but for those who want to get some drinks during the night there are plenty of places you can go to. In Pigadia town you have cozy bars with view at sea like Anoi and there are even some discotheques if you want to party till the sun goes up. This doesn't spoil the fun for the people who just want to relax and catch a good night's rest after spending the whole day on the beach as two discotheques are located in the industrial area and one hidden is in town.
7. Crystal clear water
The island has so many beaches, that one cannot see all of them in a week vacation on Karpathos. Even though it's such a small island of only 50km long. The beaches exist mostly of small pebbles on the east side and sandy beaches on the west side.
You can even find yourself a private beach for the day as there are plenty of beaches. Some have beautiful rock formations surrounding the beach which give you quite some privacy if you'd like to go for a skinny dip.
Everywhere you go the warm water is crystal clear. Perfect for snorkeling or just a swim.
8. The weather is splendid!
The summer season in Karpathos starts in April, when the sea water is starting to heat up and the sun is already tanning your skin. The flower-fields are beautiful and last until the end of May as that's when it's getting hotter and Karpathos becomes a very dry island. The Karpatheon people like September best for its weather and another reason to love visiting Karpathos in September is that it's more quiet on the island with less tourists due to school holidays. The island is actually great all year round and you almost never see a drop of rain.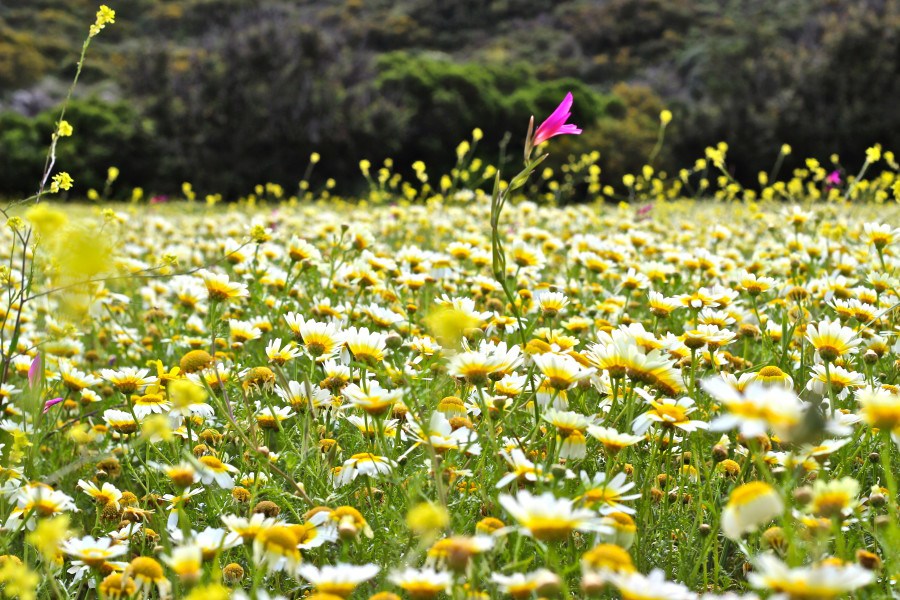 9. It's a world known spot for windsurfing (and becoming one for kite surfers)
With conditions for everybody you can either start as a beginner or learn to improve your skills with the winds of Karpathos. At the bay of Afiartis you can find several windsurfing stations such as Karpathos Surf Club where you can rent gear or score yourself a lesson. At Chicken Bay you find shallow waters which are perfect for a beginner and Devil's bay offers strong winds for those who want to surf with hardcore conditions.
10. The Greek atmosphere is not destroyed by tourists
As continuation of point 3 on this list you should know that Karpathos doesn't only remain authentic but it is also not touristy yet. You get the real Greek feeling when you're exploring the island as it is not destroyed by tourists. The local atmosphere remains, also at those places where you'd expect things to be turned into some touristic attraction. Local villages still really are local villages, meaning people live there. Their daily routines haven't changed. When you set foot in one of the mountain villages during siesta time you'll have the entire town to yourself. The ovens, out on the streets, are still being used to bake bread with and even the dialect at the isolated town of Olympos hasn't disappeared.
Source: http://thatwanderlust.com/10-reasons-visit-karpathos/

Εκτύπωση